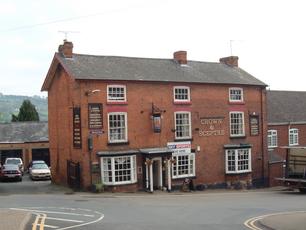 The Crown and Sceptre in Bromyard has been closed for a while but is re-opening on 4th August. Press release as follows:
"I'd like to introduce Roger and myself, we are reopening the Crown and Sceptre Inn, on the 4th August at 6pm.
We are moving to Bromyard from Newcastle in Staffordshire, we are looking forward to living within the Bromyard community, our son Joshua who is 12 will be attending Queen Elizabeth Humanities College in September and our daughter Charlotte will be with us when she is home from University.
The Crown will be a family pub with traditional values, brought into the 21st century, selling cask ales, a comprehensive wine list and even the odd cocktail. We will be serving food from 11am until 9pm throughout the summer, with a comprehensive British menu, well cooked and presentated with a Sunday carvery served in the function room overlooking Bromyard Downs.
We have a lot happening at the Crown and more information will be sent over the next couple of weeks.
But one thing I have to mention is opening night we have a very special band playing "Badgers" popular musicians playing an assortment of music, sure to fill the dance floor – and its free!
Kind Regards
Kathy Bishop"
The Crown has been a venue for music sessions in the past and has a fantastic function room that has been used recently for a concert from the Remi Harris Trio which we will look to repeat.
Good luck to the new tenants.